About The Artist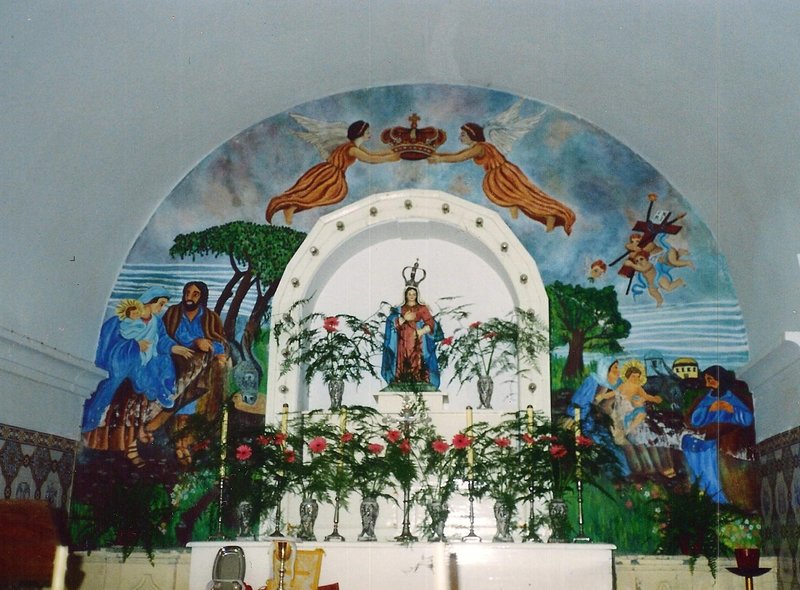 My first mural in 1978 - The Nativity of Jesus - Ribeira de Cima - Portugal
Founded more than 30 years ago by artist Filomena Sousa, Creations by Mena is a fine art, trompe-l'oeil, and handcrafted home décor extravaganza.
Mena's primary mission [in (mural) painting] is to "bring a vision to life, with lots of love. Bringing love to people's lives is my theme."
With a company history deeply rooted in handcrafted tradition, Mena is highly adept with a variety of mediums; including pencil drawings, charcoal, pastels, crayons, inks; as well as acrylics, and oil paints.
Additionally, Filomena is recognized for her ability to accentuate everyday home objects with a handcrafted touch; for example, by customizing accent pieces (glassware, flower pockets) with lovingly painted designs.
Feel welcome to contact Mena regarding your next home décor project. She'd be delighted to offer a consultation whereby you'll be presented with the opportunity to articulate your specific needs and desires. This initial conversation will serve as a springboard from which Filomena will bring your stated vision to life.
Creations by Mena offers bespoke fine art pieces ranging in subject matter from landscape to religion; original portraiture, floral canvases, interior and exterior designs; as well as 'faux finish' wall art.
A simulated surface design (be it wood-grain, marble, tiling, stained glass; or even stone) might be just the right touch to enhance your environment. Mena's work lends warmth to the atmosphere, whilst simultaneously imparting a unique, personalized touch.
You also have the option to choose from customized or personalized unique gifts, which are handmade directly within Mena's studio.
A gift from Creations by Mena is sure to warm the heart of both giver and receiver alike.